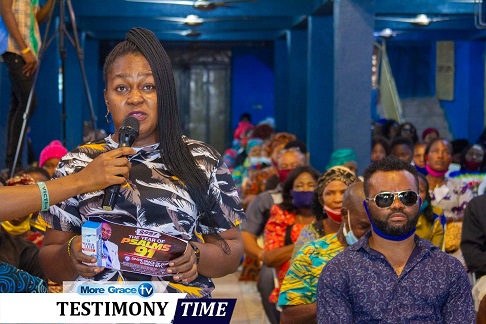 More Grace everyone. My name is Favor Johnson and I am here to testify to the Glory of God upon my life.
For the past 12 years I was suffering from unstable menstruation. I was having serious pain under my abdomen. I was taking drugs all to no avail.
Last two weeks Wednesday,during the course of the Faith clinic prophetic service the man of God Senior Pastor P.I.A Obaseki gave a word of prophecy that if you are here and you are suffering from irregular menstruation came out and I came out. The man of God prayed for me with the NEW WATER OF LIFE and I received my healing. The pain left me immediately. Till now no more pains.
Secondly, I have been seeking financial assistance from my sister who lives in Germany and she keeps telling me that I have a shop of my own that I don't need her assistance.
I got the New Sticker PSALMS 91 I prayed with it and I said whatever that is covering my sister face not to see me that God should remove it.
To my amazement, the next day my sister called me that I should check my account that she has sent me money. I checked and I saw the money. The next day,she called again that she sent me money again and I checked and I saw the money in my account.
Thank you Jesus.