Trails and temptation is the soil in which faith flourish.
P.I.A Obaseki was staying in Ibadan, where he was struggling and suffering terribly, at a certain period of time he worked as a bus conductor just to keep the body and soul going. Inside the bus a woman called him and told him that God has not called him to be where he was, and he was amazed at the audacity and boldness from the woman with which she spoke to him. There after he began to ponder on that – he had to, because he could not just ignore it. The following week, another person entirely different from the first woman that entered his bus, yelled at me with a deep sense of conviction and said to me – "Hay mister man, this is not your place!". Then, he asked him where his place is? He then said to him; "Go and ask God". Few weeks later, the bus for his business got bad and he could not get another.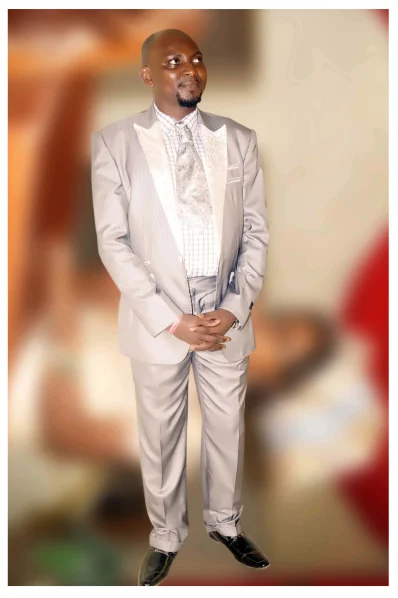 Life continues as an Electrical part seller
He became very much interested in electrical business. He has not learnt this business before. He had no cash to start the business, after asking several persons that he knew to loan him some money and none could assist him.He later decided to open an empty dustbin kiosk along the roadside at Orita challenge area in Ibadan, he arranged empty cartons of electrical appliances/parts since he had no money to start the business. He went to distributors of electrical parts to give him goods and make returns after sales, because none of them agreed to accept his request,so they turn deaf ears to it. He was anxious about the business, because he couldn't seat a home based on issues that he had been owning house rent for months. He will also go to the small dustbin kiosk and sit by it because it couldn't contain a human being. When customers comes to buy things from him, he will always tell them that his goods just got finished but he has ordered for goods and they are on the way, some will be angry and walked out on him.
One faithful evening as he sat close to his kiosk, he had so many customers who wanted to buy goods from him, but he had none to sell to them except bulbs. One of the distributors he met few weeks ago, who refused to assist him, was also passing by so he sighted him and saw numerous customers in his store, later that day he came and met him and said to him "I could see you have no goods in your shop, I said yes is true", and he said "can I trust you, I said very well by the grace of God". He gave him his card to come and collect goods on credit basis. From then he could buy goods on credit and pay back after selling.
However, after a year plus, with the little money he had saved he decided to travel outside the country to make more money and he passed through Libya. But that was where he nearly died as God's calling upon his life became more clearer and clearer and with more urgency.
When he could no longer bear it, he surrender and began to operate a fellowship in a harlot joint, in the ghetto at Saba in Libya. Many Nigerians became members of the fellowship as we held it secretly. Soon as God would have it the Nigerian government offered a free flight back to Nigeria for Nigerians in Libya and that was a prayer answered for me.
As he arrived Nigeria, he gave God thanks and went straight to Christ Apostolic Church (CAC) prayer mountain (Ori oke akikemi) Ibadan, to seek God's face. On the third day, he saw himself cutting off ropes from those that were tied and conducting prayers of deliverance on them. When he came from the camp, he moved straight to his village to tell his mother about his calling, and then his mother prayed for him and releases him for greatness under the auction of the Holy Spirit through her prayer. His mother told him that God wants to use him to continue from where his father stopped; because his late father Rev. Peter Obaseki was a minister of the gospel under Assemblies of God Church.
But while he was still in the village, he saw a man of God on TV preaching the gospel and calling for counseling, he went and saw the prophet, immediately he entered his office, he recognized the hand of God upon his life and mentioned it to him. He explained to the man of God the purpose of his visit. The man of God later offered him employment as the discovered that God called him and he was gifted.
He worked in that ministry for 4 years, as a video camera man, an editor, electrician, taking charge of the plant house (generator), assistant sound engineer, etc and he was always happy doing as he saw it as God assignment.
The Ministry Birth.
"Divine Grace of Glory Church" was birthed on 24th February 2004, two (2) months before he left, He informed his General Overseer about his plans to start his own ministry. The first church structure, which very well took the grace of God, was with slabs and woods on a rented little plot of land. Our first crusade in February 2004 was with children. He actually Pastor children for eight months. Shortly after, some adult began to come and with a year, the church structure was rebuilt.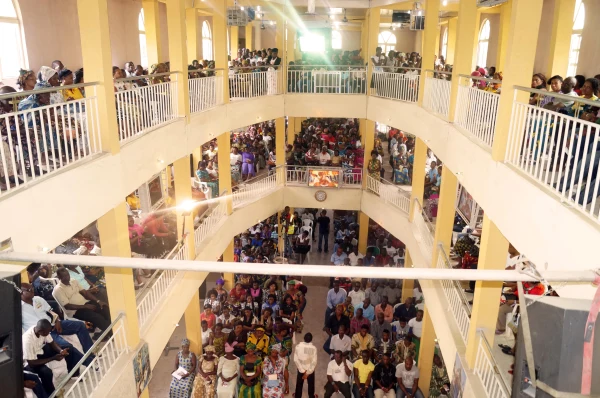 Outside Auditorium of Divine Grace of Glory Church
Overflow Session of Divine Grace Of Glory Church
Recently the ministry has acquired a very large plot of landed property for her permanent ultra modern cathedral because the current cathedral no longer accommodates worshippers. The ministry is also starting the construction of a prayer mountain for all nations.