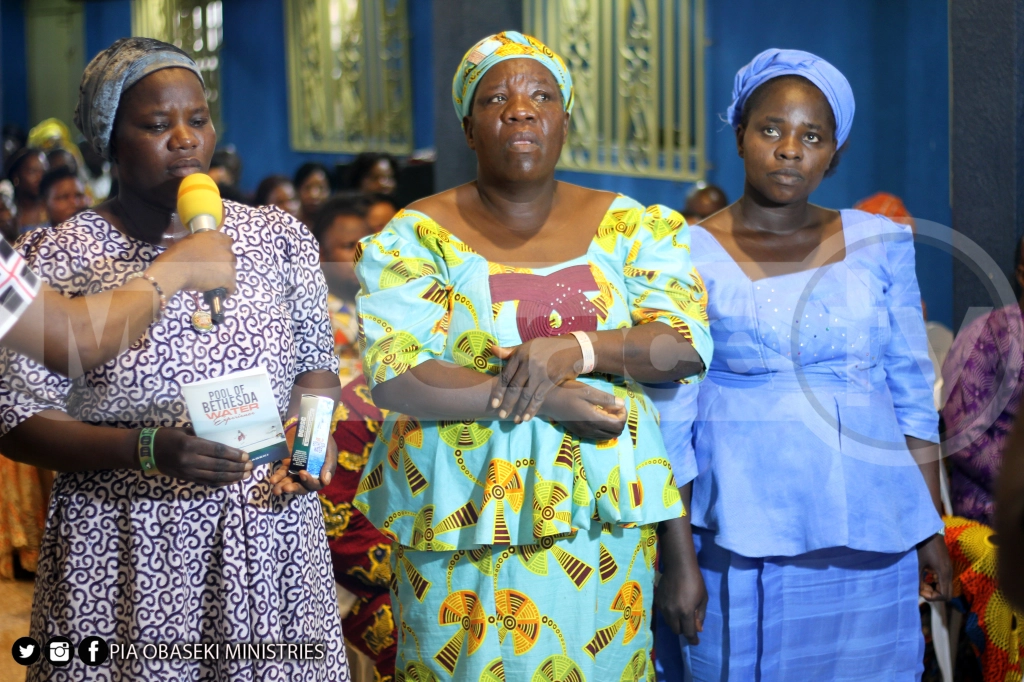 More grace. I am Mrs. Sunday Funke. The woman standing beside me is my mother, while the other is my younger sister. My husband was spiritually attacked some time last year and fell seriously sick, He was taken to the village for treatment but After he returned, I fell sick and was rushed to the hospital where I received several treatment I was discharged. But few days after I got home, I had severe headache and was taken to the village where I was receiving treatment but whenever I communicate with my husband, the sickness would become more severe. Because of that I was afraid of talking to my husband.
I was opportune to be in the DGOGC Sunday service at the DGOGC international headquarters where the man of God PIA Obaseki located me by prophecy and asked me what I want God to do for me and I replied that I want God to heal me then he prayed for me with the pool of Bethesda water and instantly I received my healing but when I talked to my husband on phone the severe headache started again. I was opportune to be in the DGOGC prayer mountain the man of God PIA Obaseki mentioned my case via prophecy "that there is a woman that the enemy has tried to kill but they didn't succeed and now they are planning to take sand from your footprint whenever you come to the village then he warned whosoever the person is that the person should not go to the village but in 3 days' time their obituary will be announced" I claimed the prophecy and abide to the instruction.
Truly when we got home that day we received a call from the village that one of my husband's relative was sick, I quickly went into prayers and prayed to God that God should confirm the words of his servant…truly we received a call 3 days later that the person had died and from that day my reoccurring sickness disappeared and I can talk to my husband as many times as I want on phone without fear….thank you Jesus..